The first time I heard about Cronkite was one of my visits to the United States Embassy in my home country Sierra Leone, after I had received my acceptance notice for the 2021-2022 Hubert H. Humphrey Fellowship. I couldn't even hear the pronunciation well, nor did I know exactly who the bearer of that name was or his contribution to journalism in the US and the world.
My interest to know about the journalism school that I was to be admitted aroused when I was finally informed by Tommy Kain, the coordinator of our fellowship program at the embassy, who finally told me that I had gained admission at the Walter Cronkite School of Journalism and Mass Communication in Arizona. He further disclosed that Cronkite is one of the leading journalism schools in the United States of America, and after my research I realized that many media scholars and practitioners had gone through the school.
It was after that day, that I began to search about Walter Cronkite School, and I came to know that the school was named after a towering figure in the field of journalism in the US, someone who set the agenda in the American media landscape in the 60s and 70s, a man whose voice and face was a license to give credence to issues and events, a man who grilled politicians on the airwaves, afflicting them while comforting the afflicted populace, a man whose legacy still shines in the annals of history. Until Cronkite says it no one believes it.
I left Kansas where I spent two months as part of my pre-academic training or for want of a better words a prelude to the fellowship proper, where we came across excellent professors, who imparted invaluable knowledge that will leave with us till eternity.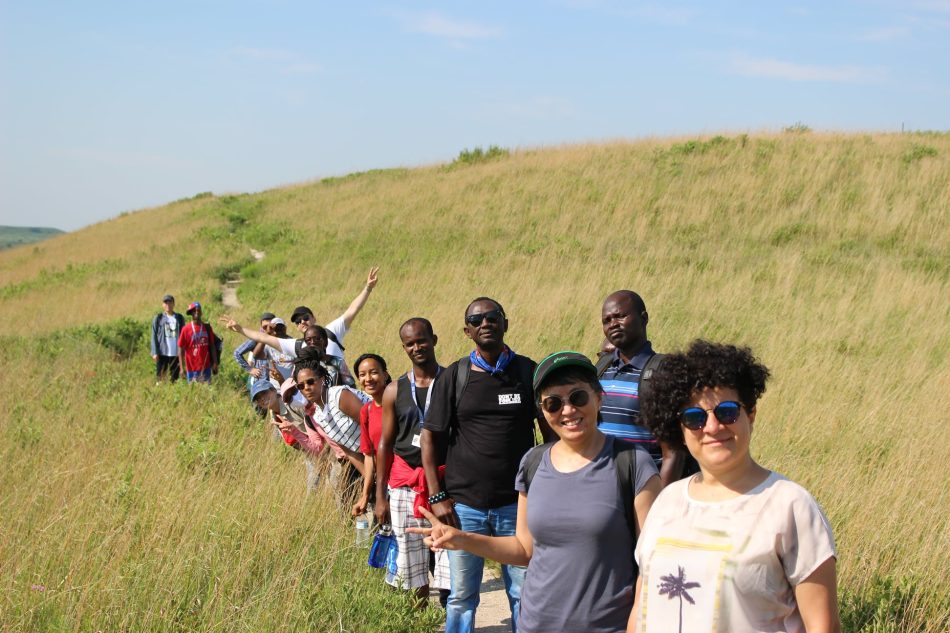 From Marcellino Berardo, to Dr. Elizabeth Gould and other tutors who left in us an indelible impression of what the American educational system and way of life is all about. Our encounter with these great minds was very inspiring and fulfilling, and will not be erased from our minds so easily.
When I landed in Arizona on a hot Thursday, I was greeted by a scorching sun which led me to ask myself if I were in the Middle East, though I had been told Arizona is one of the hottest states in the United States, I underrated that information that was being given to me. Even during my visit to the Middle East, Saudi Arabia to be precise, I didn't encounter a harsh sun as I did on that day in Phoenix.
Unknowing how the heat was before I boarded the flight from Kansas, I wore a sweater on the flight from Kansas to Phoenix. It was only when I disembarked from the fight and went to the carousel to pick up my luggage, that I had a glimpse of how the outside temperature looked like. Even in a well air-conditioned room, one could have a sense of how unsympathetic the outside weather was on that day.
While in Kansas, I will surf the internet to see how the ASU Campus looks like, especially the Cronkite School. I came to realize the gold color as the signature color that represents the Sun devils. So before I landed on campus on Monday after spending a few days in a nearby hotel, I had already toured part of the campus, which was lit at night, reading some of the beautiful writings and paintings on busts and signposts.
Some of the writings depict the trail blazing nature and pedigree of the Arizona State University when it comes to making breakthroughs in the world of invention and academia, and introducing cross cutting courses that enable the university to stand out and compete with other American universities. This was confirmed to us when we paid a courtesy call on the erudite scholar and President of ASU Dr Michael M. Crow in his Tempe Office.
After my orientation, I fell in love with the campus and realized how lucky I was to be part of a cohort comprising successful media practitioners, whose names were synonymous with excellence and professionalism in their respective countries, men and women who were carefully selected among five thousand applicants globally. In the words of Jan Holland-Malcom at the welcome reception at the First Amendment Forum "you guys are among the brightest in your countries, you were carefully selected so your presence here today is by no accident."
Our cohorts, comprised men and women drawn from Africa, Europe, Asia, Middle East and the Caribbean. Five of us first met in Kansas and we built a bond that many of our other colleagues were in awe of when they saw the camaraderie with our other colleagues with whom we stayed in Kansas during the leadership conference in Washington DC.
In less than one week after our first session, we exchanged numbers, created a Whats App group, and started sharing our stories. Our relationships had already been knotted and well tied, because we had left our families back home and we had found a new family in one another.
For the next few months, I traversed the campus unaided as I had understood the nook and cranny of the Cronkite and other schools on campus, from our suite in the fifth floor, to our usual class where we had every Monday our Humphrey Seminar, to convention centre where we had our welcome reception, and our normal classes for the elective modules.
In my first semester, I read "Writing for Public relations" which was taught by the learned Chinese Professor Wu, who introduced me to rigorous public relations skills through his daily assignments. Professor Wu really made public relations simple in the eyes of the student. I remember in one of my assignments, I prepared a speech for my CEO as I acted the role of a public relations man in a company. I enjoyed doing that assignment, and the highpoint was when Professor Wu asked me to take the podium and present my speech as if I had a gathering in front of me.
In the fall semester, I chose Strategic and Crisis communication, and our tutor was the knowledgeable Dr. Frances Matera who combined theoretical and practitioner knowledge in communication. Her style of teaching was excellent and innovative as once in a while, she would invite past students, and current public relations practitioners to shed light on some of the topics we were discussing in class. I found that aspect of her teaching very helpful; it gave me the opportunity to understand various perspectives of how certain situations were responded to and why they were responded to in a particular way.
Our Humphrey Seminar sessions on Mondays became one of the most interesting and eye opening sessions. That segment of the fellowship is meant to shape your thought process and better your leadership skills. Professor John Misner and Dr. Marianne Barrett were two distinguished and accomplished media practitioners, and scholars who combined experience, and dexterity when it comes to delivering the Humphrey Seminar lectures.
John exposed us to many books, and articles that were meant to shape and sharpen our leadership skills and world view. Two among the most prominent books he introduced to us were "The Culture Code: The Secrets of Highly Successful Groups" and "Essentialism'", three great works, deliberately chosen by Professor Misner. He imbibed in us problem solving skills as leaders in whatever situation we find ourselves. He gave us reflection papers, and will painstakingly mark everyone's paper, with the eye to see even the omission of any punctuation. He always leaves a comment after marking your script which he did with fairness and transparency.
John will always give us behind the scenes support. No matter the situation, John is ready and willing to place a call to see things go the right way for you. I remember when I was unable to secure my professional affiliation after many efforts, and the deadline was getting closer, John was able to introduce me to the Marketing Manager of KTAR Radio in Phoenix, Ryan Hatch, who fixed an interview date and in no moment I had secured a place at KTAR where I did my professional affiliation.
Studying with Dr. Juan Mundel, the Executive Director of Cronkite Global Initiatives was interesting. However, Juan is known for his zero tolerance for unprofessionalism, and laziness, although he is a very pragmatic and supportive scholar and educator in ordinary times.
I remember in one of our meetings, a few weeks after our arrival, we had been assigned the role to manage the Cronkite social media pages. We were new to some of the tasks and responsibilities that were being assigned to us, and the social media pages were going unattended and this got Juan upset that he had to summon an emergency meeting, urging us to step up and handle the social media handles well.
We left the meeting very energized and assured him of our determination to go beyond his expectation. I got to know that Cronkite has a strict policy on deadlines as a rigorous journalism school after that event.
I will regret if I fail to highlight the many outings, conferences and excursions we had as cohorts, be they in Washington, where we attended the Leadership Conference and met the niece of vice president Hubert H. Humphrey, Mrs. Anne Howard-Tristani. She delivered an electrifying speech that evening.
Our visit to the Grand Canyon and our breathtaking trip to Tucson where we saw Nogales Arizona and Nogales Mexico, a place I had read about in the book "Why Nations Fail" were fascinating. At the border, we took photos of the famous US-Mexico border fence that was popularized by President Donald Trump. Our last trip together as cohorts was the visit to Tucson where we paid a visit to a cave. That final trip together left indelible memories in our minds.
I made long lasting friends during my sojourn in Arizona, and some of those friendships have started bearing fruits already. In April of this year, I was fortunate to be invited by one of my colleague Humphrey Fellows whom I first met in Kansas. My South Korean friend Tag Lee and I built a formidable friendship.His association invited two other Humphrey fellows from China and West Bank to attend the Annual General Meeting of the South Koreran Journalists.
Another Humphrey alumus Gahyeok Lee joined, too. We all converged in Seoul and the five of us reminisced about our days in Cronkite, and vowed to build the bond we had created during our short stint in Phoenix. These are some of the networks one builds when one attends the Hubert H Humphrey Fellowship.