First Friday, what's that?
It's this art walk thing!
A walk?
Well, it happens every first Friday of the month, in downtown Phoenix.
Ah! Umm, so, what's it about?
It's free you know!
Grrrr….
Apparently, First Fridays are a free monthly self guided tour of galleries, studios, and unique businesses in downtown Phoenix, showcasing local, national and international artists.
Or so the nice little pdf pamphlet said.
So I had to check it out, for this seemed the best way for me to fully comprehend what First Fridays were.
After rifling through the map, I decided that Roosevelt Row was about as good a place to start as any, mostly because it had the most congregation of dots-to-see on it anyway.
As I moseyed up to the street, I knew something was going on: people were walking up and down with a definite intent.
But what was it?
I first came upon a little arrangement of stalls that were selling all sorts of artsy stuff and paintings.
And then it was bands set up here and there, small three or four pieces, with a rudimentary assortment of instruments, but playing with a lot of heart and soul.
I walked into a smattering of galleries, with very abstract yet compelling art, I shall hazard to say here.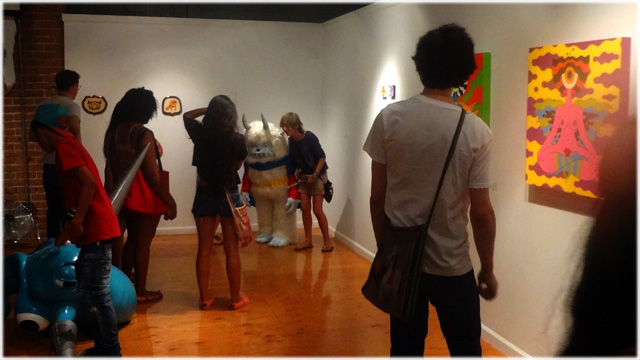 And a rivetingly charismatic man who was sticking his hand in a mousetrap!
It took a while, strolling through the milling crowds and the assortment of stuff on display, both arrayed and attired, for it to slowly dawn on me what First Fridays on Roosevelt Row was all about
Creativity at the grassroots level. As best I can tell, that is.
It was a lot, yet very subtle, and when you take a step back, a whole new view opens up.
As I took it all in through my epiphany opened eyes, I saw the little nuances and intricacies inherent in what was sprawling before me, and boy, did it all scream of character!
After all, Roosevelt Row is a walkable, creative district in this urban centre of downtown Phoenix that is known for its arts and cultural events, and on First Fridays, it transmogrifies into something more.
The art may not be fine, the performances may not be deep, the setting may not be elegant, but the spirit of creativity and the passion for it was definitely thick here.
And then I was handed this, which I thought painted the whole picture perfectly.
Can't wait for the next First Friday, for another series of firsts.