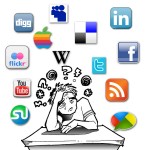 While I was attending the session on the power of Social Media in Excellence in Journalism,the conference for Journalists held this year in New Orleans,there were certain things started to click in my mind with reference to the future of Social Media in my country 'Pakistan'.Comprising of 180 million population,Pakistan has 25 million internet users whereas 100 million use the moble phone,making Pakistan the biggest cellular market in Asia.Keeping these figures in mind,I have no doubt in saying that Pakistan will soon be expanding fastly in the field of Social Media.My argument has strong footings when I recalled the launching of our Program page on Facebook in April 2010.Within a year the fans reached to almost 80,000.Untill the time I handled our program page ,I can well remember the interactivity of the people in terms of comments,like ,polls and sharing new ideas for our program.Even though we came up with little new ideas to engage the public more,but even in our limited manoeuvering of playing with our facebook fan page,we attracted majority of the people,which helped to make our fan club the biggest in all talk show of Pakistan.
During the conference,I was flabbergested to hear the new tools which will be so helpful for my program that I think will not only they upgrade the standard of my program but also attract even bigger audience.I think it as a method to attract the youth especially the students who are the leading consumers of the social media.Not only that,but it can be a source to draw the Overseas Pakistanis who somehow or the other can't convey their feedback or suggestions for the program.
The Social Media in Pakistan can be harbringer of so many positive changes if used with positive mind.It will be a start of the competitive world.