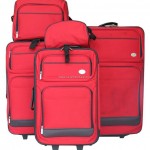 On June 14 I started my first internationl travel to the US with two caryy on while booked two big bags.It was my first experience to travel outside Pakistan and the journey was consisted of two connected flights from Pakistna to USA,while two more flight within US to reach my destination UC Davis.My travel was about 26 hours.I remember myself running on every airport to catch my next flight.
When I landed at Dallas Airport which was my entry point to the US,I knew in Pakistan that I would get my two booked suitcases in Sacremento but I forgot it and I tried to get hold of my jumbo size two bags at Dallas airport with two hand carrys.As I initiated my try to handle all this,I saw an American man standing beside me with a child,offered me to carry my big bags to rebook them again so that according to the decide rule I could get them in Sacremento.I was very impressed to see that man extending services to me as he saw my size and the size of luggage was totally incompatible.
The luck didnt depart me at Dallas,as I reached my final destination at Sacremento Airport,I was again offered by an American man for carrying my luggage,he really carried it for long as we had to come on main road in order to catch shuttle to my host family in Davis.I thanked him as much as I could but there is no return of the kindness he showed to me when I was struggling with my luggage and tired after 26 hours of journey.
The same happened to me on Sky Harbour,Phoenix airport .Not only that as when I reached hotel, this time an old man at the reception helped me to arrange my luggage and helped them carry.
I again saw this kind attitude in another young man when recently I was coming from Memphis to Phoenix.This time I was carrying quite a tiny size bag but a man sitting right opposite to my seat put it in cabin ,it didnt end there ,he also put it down from cabin when we reached Phoenix without my saying this to him.He just did it while looking at me ,'I get it for you.'I thanked him three times for doing it but again ,the words stand no where to what he did without my asking for it.
I am so impressed with this kind of attitude I saw while my travelling wihtin the States.I have so many stories to share my fellows and family members when I go back to Pakistan about the good experiences I am having in the States.