In one's leader life, whether they are some critical questions marks which have to come in your mind, reveal, model and sharpen your leadership skills and inspire transformation in your society, we can are no doubt talk about : what, how, why, when and with who? theses questions marks are very important to determine who incarnates as well the soul of leader, where ever he is. As seen on Monday Sept 16 seminar, many facts may get people confused about the meanings and the differences between Manager an Leader. And it is clear that whether some characters may possess the abilities of both, they remain different concepts: -Let us say that a Manager plans, organizes, gives tasks to his subordinates, control the job whether they are done as needed or not, with results as goal; He rather like stability than taking risk, and is more work focus. -While a Leader inspires, let the opportunity for people to act, create added-value , in short, transform people as told during the seminar, to seek achievements. A leader has followers instead of "workers", and is more people focus. However when it happens-as I have already mentioned-that someone possess the abilities of both, the most important now is to make sure to be applying the great style of leadership. In the seminar we have also seen the differences between horizontal leader who puts himself at the same level as his team members and the vertical leader who is firm, at least authoritarian; But both are appealed to practice a leadership style as they do exist several; they both have to be concerned about when and what to implement into people mind and carry out transformation and to fulfill achievements because, the timing , as well as the charisma one' displays on his followers are part of the conviction, the confidence spread on them. whether the Horizontal leader, stand to be a good listener, accepting input from others, giving tools for his team member to be able to create, being on the ground them, asking for their thoughts and then succeed in their achievement, the Vertical leader is more likely to fail, by ignoring the power of people input, by making self decision, and just asking team members to just accomplish their job.
Here comes now the "How" to get to the achievement.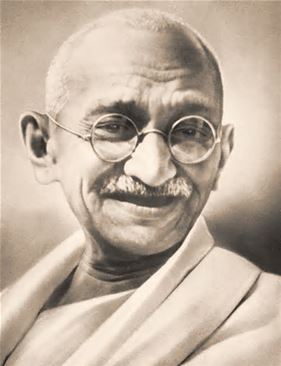 Mahatma Gandhi and …
The 2examples of leadership demonstrated by our Monday seminars guest from the Center for Religion and Conflict is typical for our purpose: Mahatma Gandhi and Mother Teresa who were seeking positive peace*, tolerance and the transformation of their society through a powerful system: withstand oppression and injustice with non-violence. As the Violence still gives birth to violence, those people have chosen to protest empty hands, and support all the demonstrations for peace and as it is also easy to guess, when harmony and justice take place, there is the opportunity to get to peace, and what ever happens to the leaders who launches such a long, hard and great fight, they may be passing away (assassinated) with this guarantee in their mind that nobody could never stop that. The examples of Gandhi and Martin Luther King jr, are still wharm in our heads. Finally about leadership and peace seking, "We should really love each other in peace and harmony, instead we're fussin' n fighting like we ain't supposed to be" says the reggaemaker Bob Marley, when Mother Theresa claims "If we have no peace, it is because we have forgotten that we belong to each other."
…Mother Theresa, 2 powerful peace makers.
*This expression is from Professor Yasmine Saikia (Center for Religion and Conflicts) who explained that paying attention to people well being beside the negative peace, which is about fighting to avoid war.
Goldenapon.wordpress.com
@issaNapon