By: Rula Rizk, Benazir Samad, Balint Szalai and Heather Cumberledge
"Everyone needs to be valued, everyone has the potential to give something back." – Lady Diana
Source: The Biography
Lady Diana grew up in an aristocratic family, clearly no stranger from networking at social gatherings with the elite upper class and having the attention drawn to her. All that was quickly put into perspective when she became Princess Diana of Wales after marrying Prince Charles in 1981. Lady Diana's legacy reached far beyond Wales and continues to impact people to this day.
"I think the biggest disease the world suffers from in this day and age is the disease of people feeling unloved," – Princess Diana
Being True to Oneself
Lady Diana was an exemplary leader of being true to oneself. When put in a position of power she handled it with grace while maintaining all her core values and principles. Lady Diana was known for being one of the first British Monarch's to adopt servant leadership style. This can be seen from her smallest acts of acknowledging people to charitable acts of global significance.
Source: Getty Images via The Pool
Leading from the Heart
Lady Diana was thrust into the limelight immediately upon her marriage with Prince Charles. The public was fascinated with the matrimony. Nearly 600,000 people gathered in the streets to attend the wedding and another 750 million people watched on television. People quickly fell in love with Diana's philanthropy, style and fact that she was unwilling to conform to the predetermined lifestyle of the Monarch. Diana was determined to raise her two children to be humble and use their power to better the lives of the people, not just let the predetermined social status carry them throughout their life.
Source: Her.ie
Leaving a Legacy
Diana maintained close contact with common-folk, breaking class norms especially for someone of her social ranking. At a time when AIDS was considered to be contagious through contact, she would go and spend time with those diagnosed with the condition in hospitals and at treatment centers and be photographed holding their hand to destroy the stigma. She was also a large advocate for homelessness aiding in destroying the stigma for that as well, a case that many in the royal family before her had never advocated for. Using her social status and power to change her country's view on important social issues that were deemed undesirable for centuries, Diana was truly the people's princess.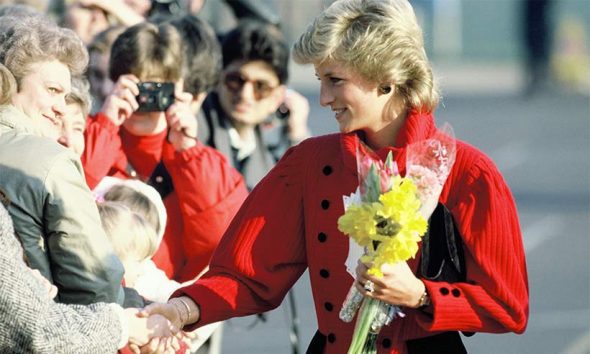 Source: hellomagazine.com
Diana was a servant and then a leader, an advocate for the people. Upon her death in 1997 in Paris, 2.5 billion people watched her funeral on television. A statistic representing a fragment of the impact servant leadership can have on the united world.