Named "Best Picture" by the Academy Awards, The King's Speech tells the story of the man who became King George VI — the father of Queen Elizabeth II. After the death of their father, the eldest brother ascends the throne as Edward VIII; yet he chooses to abdicate his title less than a year later. Torn between a fear of public speaking and a sense of obligation to lead his people, George ('Bertie') reluctantly assumes the title of King of the United Kingdom.
Plagued by a dreaded stammer and considered unfit to be king, Bertie knows that the technology changes of the age will require him to make live national announcements via radio. After some crafty persuasion from his wife, he engages the help of an unorthodox speech therapist named Lionel Logue. Through a set of unusual vocal techniques, and as a result of an unlikely friendship, Bertie is able to find his voice and boldly lead the country through war.
Our group (Alma, Ilona, Fatima, Hannah, and Rachael) watched this film to analyze the types of leadership roles it portrays. We found this movie especially interesting because the story is true: King George stepped up into his lead his country during the historically turbulent time at the outset of World War I, despite the extreme obstacles he faced. Here, we include a brief analysis of the differing leadership styles of four major characters in The King's Speech.
1.     King George VI of England: A Reluctant Leader
While not entirely unwilling to take upon his role as King of England, King George VI was not entirely excited about suddenly being thrust into the position. He took the role more out of duty than desire. His older brother chose to abdicate the throne after just a short time, in order to marry the woman he loved, who had previously been married (the monarch was not allowed to wed a divorcée). However, King George VI had a sense of duty to England, instilled by years of study and time serving in the Royal Navy.
His stutter was his greatest shame, and having to speak publicly was a cause of intense anxiety.  He knew when he accepted his role as King that he would be required to make speeches both live and via radio: a task that he did not look forward to performing. While throughout the movie, the King is characterized by reluctance—reluctance to work on his stutter, reluctance to discuss his childhood, reluctance to reign the Kingdom—he pulls through for his country in the end.
King George VI's ability to properly deliver a live speech, under the pressure of having it broadcast all around the world, proved his true strength as a leader. To be able to verbally reach out to his people in every home at the beginning a second world war, with the whole country aware of his speech impediment, was a great inspiration for his countrymen.
     2.    Queen Elisabeth: An Inspiring leader
Queen Elizabeth (the Queen Mother) demonstrated her leadership through guidance. She inspired and motivated King George VI all his life time to high performance. While she did not originally want to be the wife of King, when the time came she assumed all of the responsibilities of a queen consort with dignity and grace.
Queen Elizabeth was in fact the one to seek out Lionel Logue's help, when training from numerous other top speech therapists had failed. She encouraged her husband to see him, and to stick out the exercises even when his frustrations overwhelmed him. She balanced being a supportive wife with being a mother to their two daughters: one of which would grow up to be the queen who still rules today. When the King doubted himself, she was always right behind him nudging him forward. Without her form of inspiring leadership, history could have turned out very differently.
    3.   King George V, Father of the King: An Authoritarian Leader
Albert's father, King George V, is shown less in the film, but his influence still plays a huge role in the events surrounding the royal family. In one of their sessions, Lionel diagnoses that his strictness and authoritarian behavior towards Albert from childhood turns out to be the main reason he developed his stammering.
His father wanted to see him perfect and groomed for the throne, but never encouraged him with positive reinforcement.  His disappointment in Albert's speech disability does nothing to help him overcome it. His expectations were always set extremely high, and his communication style was always top-down within the hierarchy. He may have had good intentions, but his methods of leadership proved to be ineffective in the skewed transitions of power that occurred after his rule of the United Kingdom.
 4.    Lionel Logue, Australian Speech Therapist: A Servant Leader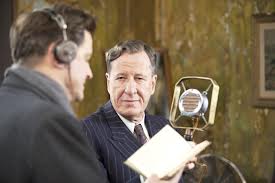 Lionel Logue is an Australian speech therapist working in London who is hired by Albert's wife in hopes that his unusual methods will help the Duke of York overcome his stammer. During their first session, Logue breaches royal etiquette and insists on calling his patient "Bertie," a name used only by members of the royal family. This is an example of how Logue makes their relationship that of equals. When Albert decides Logue's methods and manner are unsuitable, the Australian bets a shilling that Albert can recite Hamlet's "To be, or not to be" soliloquy without trouble while listening to loud music on headphones. Logue records his performance on a gramophone record; convinced he has stammered throughout, Albert leaves in a huff without listening to the recording, declaring his condition "hopeless" and dismissing Logue. Logue offers him the recording as a keepsake.
When Albert eventually listens to the record, he discovers out that he did not stammer at all when the loud music drowned out the sound of his own voice. Logue's patience to let Albert discover this for himself was a wise move, one that convinced Albert to go back to him and continue the treatment. Throughout their sessions, Albert gets offended with his therapist on multiple occasions, but Logue always handles his outbursts intelligently. He treats the Duke just like any other patients, so much he didn't even divulge it to his wife and sons.
His compassion and respect for Albert is evident throughout the film, which culminates in his first major announcement to the world on live airwaves — and Albert's trust in his therapist is likewise evident. Logue is the only one to accompany him into the broadcasting studio, where he tells him right before the red light goes on, "Just read the speech like you're saying it only to me."
Logue's character demonstrates all of the servant leadership qualities. He is a loyal leader who places Albert's needs before his own benefits. He does not demand recognition or brag about his accomplishments; instead, he finds success in the success of his subject. From rolling the Duke around on the floor, to encouraging him to swear when he felt stuck on a word, Logue's unorthodox leadership techniques eventually helped Albert to assert his power and find his own voice.