Perhaps the Titanic could have avoided its legendary sinking catastrophe  if there were enough sunshine and warmth to melt the iceberg before the ship hit. Either way – Leonardo DiCaprio would still be immensely famous.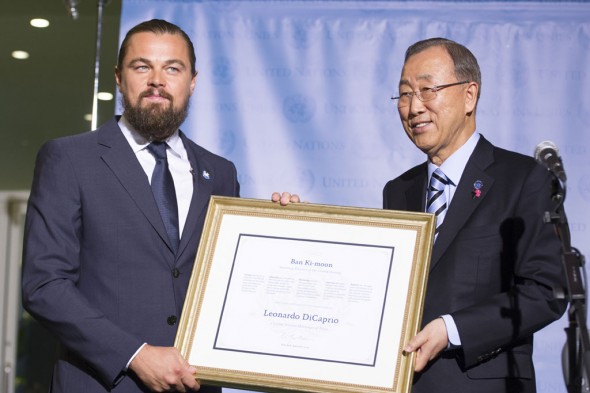 In September 2014, Leonardo DiCaprio was designated as the United Nations Messenger of Peace in time for the United Nations 2014 Climate Change Summit. In his captivating speech at this event, he offered a comparison between his role as an actor and the way he sees the public treating global warming:
"As an actor I pretend for a living. I play fictitious characters often solving fictitious problems. I believe humankind has looked at climate change in that same way: as if it were a fiction, happening to someone else's planet, as if pretending that climate change wasn't real would somehow make it go away."
You can read his full speech here. Or watch the video here:
DiCaprio's words are dynamic and speak to the emotions that fuel climate change debates. As is often the case with celebrities and important – yet controversial – issues, DiCaprio offers his time, money and celebrity status to furthering the intentions of one side of climate change. DiCaprio's efforts on behalf of climate change are grandiose.
He participates in several relevant events – most notably / most recently in the UN Climate Change Summit (previously mentioned) as well as the People's Climate March in New York City, an important event attended by individuals from over 160 countries seeking to address climate change. The emotions behind the People's Climate March is captured fantastically in about 86 seconds here:
http://www.youtube.com/watch?v=gv6LXpkbTQ0
And when THE Leonardo DiCaprio shows up to events like these – even despite efforts to stay disguised – the press notice, and people start to talk about his participation.  This is exactly the media response DiCaprio and his celebrity climate change teammates want from their involvement with these campaigns.
Event support is not just one-and-done philanthropic ploy. In fact, DiCaprio promotes his campaigns year-round. He created the Leonardo DiCaprio Foundation in 1998, and dedicates time and resources such as grants, media projects and campaigns toward protecting "Earth's last wild places and implementing solutions that create a harmonious relationship between humanity and the natural world" – Leonardo DiCaprio Foundation.
In order to sustain his momentum as an activist for action against climate change, DiCaprio leverages social capital (11.3 million followers on Twitter, for example) on social media sites. More than half of his recent tweets – observed of October of 2014 – relate to his climate change activism. DiCaprio makes strategic use out of Tweeting to other activists and engaging with people and organizations he supports, such as Moment For Action, Green World Rising, President Obama and more.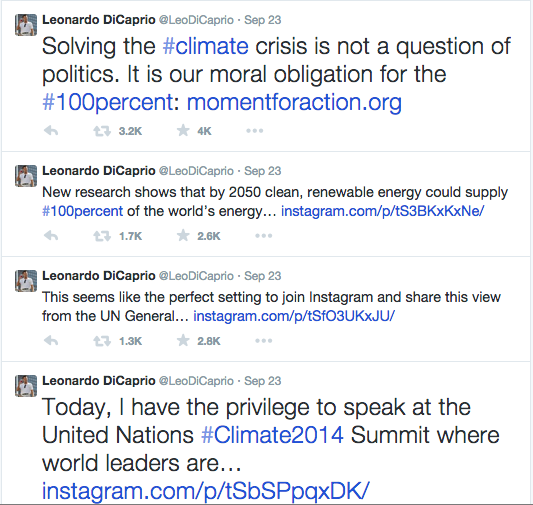 All of this social media conversation gains traction for campaigns that further DiCaprio's agenda. Celebrity involvement  supporting controversial issues is one of the strongest strategies a public relations team can implement. Leonardo DiCaprio shines a bright light of attention onto his causes, and is certainly a bright ray of sunshine and hope for those seeking climate change solutions.
Edited by: Armen Sargsyan