Written by Alex Scoville and Priscilla Quiah
Working in teams isn't easy, but it's not supposed to be either.
Coordinating with others requires time. There are different schedules and commutes to work out. Decisions need to be okayed by everyone on the team. Nobody can get their way entirely.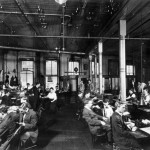 Teams can test an individual member's patience and ego. Relinquishing one's own ideas, direction and voice can at first be upsetting. However, I think the attitude of a good team member is that they adopt and learn (as opposed to giving up) new ideas, direction and voice!
This education through others is the greatest individual benefit from working in a team. You see new perspectives and learn new skills.
On a larger level, the diversity that a team can bring is so important. Teams can be engineered to contain homogenous ideas and peoples, but they can also bring together vastly different ideas and members.
Journalism is one industry that thrives on both collaboration and diversity. You'll always be working with someone else, whether it's your editor or the graphic designer assigned to your story. Being able to work in a team is essential to being a reporter.
Diversity enhances stories. New reporters on a beat can bring in new people, topics and perspectives. What appears to be an everyday crime or situation to one person will be a story that explores race or gender relations in society to another person. Journalism becomes lazy without unique points of view!
Teamwork is so very important, even the Holy Book Bible teaches that, "one puts a thousand to flight; and two put ten thousand to flight."
Here are few quotes on teamwork:
– Coming together is a beginning. Keeping together is progress. Working together is success. — Henry Ford
– Talent wins games. But teamwork wins championships. — Michael Jordan
– "What I learned in teamwork: How I can work with people. How much I hate people. How I can agree with people. — anonymous
– We are not a team because we work together. We are a team because we respect, trust and care for each other. — Vala Afshar