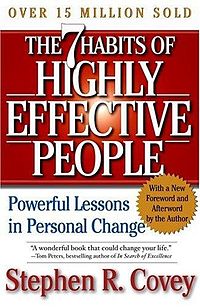 Written by Lila Ojha, Reviewed by Sepeedeh Hashemian.
The Seven Habits of Highly Effective People, Stephen Covey's best known book, has sold more than 25 million copies around the world since its first publication in 1989. This book has been translated and sold in 40 languages in fourteen countries. This book was named the Most Influential Business Book of the 20th Century. Covey was a professor at Utah University and the author of more than eight books. He earned a Bachelor degree in business administration from the University of Utah, and an MBA from Harvard University. He was rewarded a Doctor of Religious Education from Brigham Young University. He died in 2012 at the age of 79.
Covey wrote the pragmatic aspects of people's behavior through the series of habits in his book. He described the key difficulties of many people have by explaining the relationship between independence and interdependence of human nature. At the beginning he writes, "There is not one principle taught in this book that is unique to any specific faith or religion, including my own. These principles are a parts of most every major enduring religion, as well as enduring social philosophies and ethical systems."
In fact, Covey's Seven Habits of Highly Effective People suggests to adopt the series of habits to achieve maximum success in everyone life.
Here are the seven effective habits from the book.
Be proactive
Begin with the end in mind
Put first things first
Think win win
Seek first to understand, then to be understood
Synergize
Sharpen the saw
From reading the first habit you can identify your present mental state and learn to think about your thought process. Then you can break away and make your new habits and start taking initiative.
Habit two will teach you to start with a clear understanding of your destination. It means to know where you are now and where are you going which will create a focus in your mind and express feeling of love and appreciation for your life. It will also help to increase your personal understanding of the people around you.
Covey says habit three is the practical fulfillment of habits one and two. By living habit three you will achieve a physical outcome and will have self-actualization and discipline yourself to subordinate feelings, impulses, and moods to your values.
Habit four describes an idea about mutual benefit in all human interactions to accomplish maximum success.
Habit five teaches the importance of listening and explains that most people don't listen with the intent to understand, they listen with the intent to reply.
By reading habit six, you can learn to develop the habit of synergy which means that the collective whole is greater than the sum of its parts. For instance, two plus two equals to be more than four
Habit seven says how to observe and take time to cultivate the essential dimensions of our physical, mental, social/emotional, and spiritual character.
This book was very inspirational. I have found great motivational quotes from this book. Everyone can benefit from reading this book because it teaches how to successfully manage personal, family and professional life, which is very essential to moving forward as a leader.