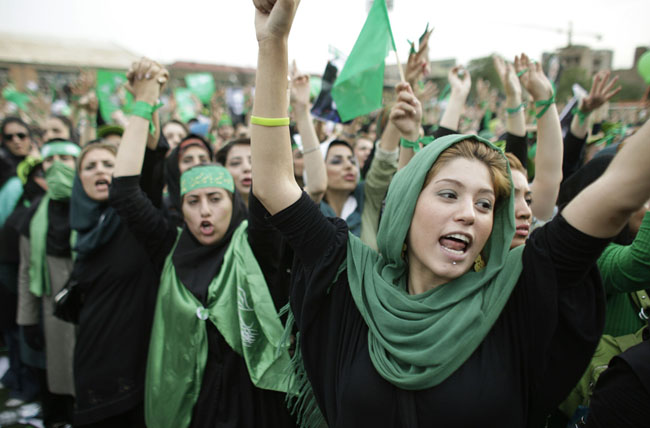 Free press advocates in Iran got a boost after the election of a new president in 2013, the reformist-minded Hassan Rouhani. Following his inauguration, Rouhani has suggested that his administration will ease the restrictions placed on the media in Iran, writes Al-Jazeera reporter D. Parvaz in Committee To Protect Journalists' (CPJ) 'Attacks on the Press', a collection of articles on the state of press freedoms around the world.
Since Rouhani's election, Parvaz quotes a reporter saying, "the red lines and censorship have eased."
The question remains, however, how much of this new climate of openness is institutionalized reform?
Hardliners versus Reformers
Iran has historically been notorious in imprisoning  journalists. Parvaz points out that CPJ ranked Iran the fourth-most censored country in the world in 2012. In the lead-up to the 2013 elections, 40 journalists were jailed for supposedly "spreading propaganda against the state," "acting against national security," or "insulting the supreme leader." And according to information provided by the Ministry of Intelligence, there are over 600 journalists in jail for being part of a so-called anti-state network.
While Rouhani has signaled things may change during his administration, analysts remind Parvaz that a similar opening for the press appeared to emerge during the reign of President Mohammad Khatami, another reformer, in the 1990s and early 2000s. However, Khatami failed to put in place the regulatory structure that would've allowed for the flourishing of a free press beyond his presidency. "This is why we need legislation which would overall define the boundaries of press freedoms according to the constitution and international obligations," Hadi Ghaemi of the New York-based International Campaign of Human Rights in Iran is quoted as saying.
Parvaz paints a picture of Iran where some parts of the Iranian government are less keen about the prospect of a more open media. He writes:
When Khatami tried to cleanse the Ministry of Intelligence of those who focused on the press, some of those individuals ended up in…"parallel institutions" close to the supreme leader, where they were still able to exert influence.
The challenge, then, is how can Rouhani, do more than simply give symbolic gestures to improve press freedoms in Iran?
A more hopeful future?
Ghaemi tells Parvaz that it is encouraging that Rouhani has demonstrated a willingness to allow for a relatively freer press than his predecessor Mahmoud Ahmedinejad. However, more needs to be done than just rhetoric, he argues. The restrictions placed on social media still exist, despite the Rouhani administration's own active usage of such platforms. Parvaz points out:
[W]hile officials have never acknowledged it-all presidential candidates in the 2013 race had Twitter and Facebook accounts. Rouhani still has one @HassanRouhani, which tweets in English. In September [2013], Twitter verified the account of Mohammad Javad Zarif, Iran's foreign minister, even though his tweets are not legally accessible to those inside the country.
As I write this Washington Post reporter Jason Rezaian has been languishing in a Tehran jail since July 2014 for charges that have never been made public. And a few days ago, authorities banned any mentions in the media of Khatami for supposedly being a member of the so-called "leaders of sedition," a group that comprises opposition leaders. Additionally, last month a newspaper was banned after expressing solidarity with Charlie Hebdo.
All these decisions were made by the country's Judiciary which tends to lean more conservative. This is why, in Ghaemi's eyes, reforms need to be structural. "The best place to start is to put in place infrastructural protections for press freedom, so that not only under Rouhani would the situation improve, but beyond him, so they are not specific to his government," he says.
Parvaz writes that any reforms hinge on the success or failure of the nuclear negotiations with the United States. If Rouhani gets a deal done with the Americans, analysts say, this will provide him with the political capital to push through other domestic reforms, including the issues of press freedom. In the words of Mehrzad Boroujerdi, the president of the International Society for Iranian Studies at Syracuse University, "his failure on the foreign policy front will embolden the conservatives to torpedo his domestic initiatives as a way of discrediting him."
But Ghaemi is hopeful. Young journalists still come forward and are willing to risk imprisonment in the name of journalism. "No matter how many waves of arrests, detentions and harassment of journalists we've had, which have landed many in jail, hundreds of them fleeing the country, journalism remains a very essential part of Iranian society," he said.
Reviewed by Vlad Odobescu.