Reviewed by Lila Ojha
The 372-page book, titled The 7 Habits of Highly Effective People, explained and well illustrated in this 8-minute video
Titled "The 7 Habits of Highly Effective People", acclaimed organizational and family expert, Stephen R. Covey, writes with specialist knowledge on how to attain holistic fulfillment in life. He died in 2012, aged 80.
Covey invokes personal and professional experiences to arrest a reader's attention, flagging good parenting as the fulcrum for a value-based and prosperous society.
He and wife Sandra had grappled with their son, who was failing at school and baseball game. Spectators booed him on the field; he cried and balked at the prospect that he would never be good in anything. The protective parents criticized the public's disapproval, believing this would inspire their son to improve. It didn't.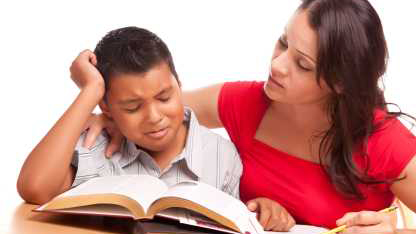 Children, according to some psychologists, develop a withdrawal syndrome when parents try to clone them in their image. Covey and wife Sandra discovered first-hand the hazards of such an attitude. Photo Credit: www.add-adhd-treatment.com
The couple soon realized from a presentation Covey originally prepared for IBM executives that they had a mistaken perception; seeing their son through a wrong lens that cast him as an "inadequate" individual, somehow "behind"; requiring constant protection. The parents' powerful influence on, motivations for and perceptions of their son's character, Covey writes, turned out to be the inhibition.
It taught them the fallacy of parents trying to clone children in their own image. As soon as Covey and Sandra stopped judging and comparing their son, and instead injected him incentivize him, their freed self from an unrecognized painful self-withdrawal syndrome. The outcome was dramatic improvement in both his class and sports performance!
The moving theme of the book is that human skills, values and inter-relationships are essential for families, organizations and societies to thrive.
In a chapter-by-chapter illumination, Covey identifies the seven habits of highly effective people as: Be proactive; begin with the end in mind; put first things first; think win-win; seek first to understand, then to be understood; synergize; and, sharpen the saw: principles of balanced self renewal.
The book first published in 1989 has sold more than 25 million copies in 38 languages, according to the Forbes magazine. Photo Credit: Tabu Butagira/Stephen Covey's website
Habit, in the context of the 372-page book, is the "intersection of knowledge, skills and desire."
These habits, the author contends, will immunize individuals against the pervasive life snares of fear or insecurity, I want it now and what is in it for me attitude, blame and victimism, hopelessness, lack of life balance, the hunger to be understood as well as personal stagnation, conflict and differences.
The book places a very high premium on personal integrity, which Covey defines as "the value we place on ourselves, to 'walk the talk'. It's honor with self, a fundamental part of the character ethic, the essence of proactive growth."
In the context of leadership, the author challenges leaders to be conscious that things they do in life live long after their demise; he discourages self pity and argues forcibly that one's destiny is an outcome of choices; tells people to execute the most important, not every, thing; to understand life is not a zero-sum — or that no every win must result in another person's loss; and, teaches the decorum of personal responsibility and synergy.