President Donald Trump supporters turned out in droves for his Mesa rally, and so did Humphrey fellows of Walter Cronkite School of Journalism and Mass Communication. During the rally just few protesters were spotted in the crowd of red.
Trump decided to host an event in Mesa, because the last time the president was in Arizona, August 2017, violence erupted as protesters outside the Phoenix Convention Center clashed with police. At this time police say they made no arrests and fielded no major public-safety issues Friday in connection with President Donald Trump's "Make America Great Again" rally in Mesa.
When we approached Mesa, we saw a huge crowd of people. Looks like Trump is really popular in rural areas of Arizona. In front of the hangar rally, where the rally took place, a helicopter flew, most likely that Trump 's team showed to the president how many people came to support him. Security measures were serious, but the police behaved politely.
In a huge crowd there were individual protesters who were not afraid to come with signs against Trump.
Trump's supporters were shouting: "Deport(democrats) into Africa, they are freaking communists".
But what struck me was that Trump supporters were walking alongside, saying that they respect their right to protest and will defend them.
Things didn't come to assault, after Trump's departure, there were very civilized discussions between his supporters in the majority and opponents about politics, illegal migrants, and health care reform. Trump supporters said they had nothing against Mexicans, but against illegal immigration to the United States.
About expensive health care: "You need to find a job, and then there will be goodl insurance, otherwise someone have to pay for it anyway".
When Trump's opponents remembered his phrase about "shithole countries", clarifying that it was insulting to these countries, his supporters noticed that he did not insult people, but if the authorities are not able to organize a normal life there, then how else to call them.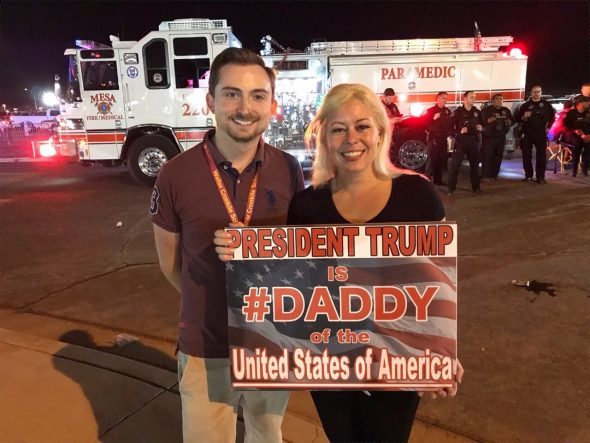 Trump had a full schedule in the Phoenix area on Friday, making stops in Scottsdale and Luke Air Force Base in Glendale before leaving Arizona on Saturday.