Written by Shirin Ahmadpour
Ever think you could get lost in the world but end up finding yourself? Didn't make much sense to me either, until I realized how much I loved to travel. It is utterly important to get outside of your comfort zone, even outside of your safety zone and experience life away from home.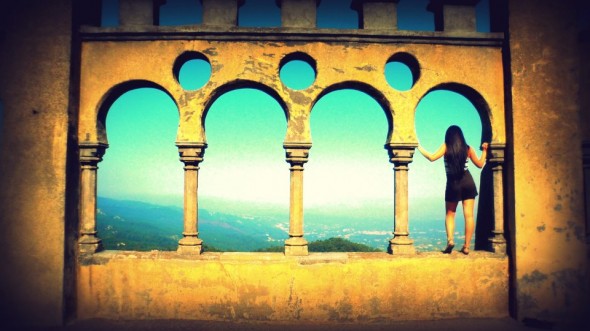 Every culture, every country teaches you to appreciate what you have or take to heart what you need to change in your life. I will always remember my trips to the Philippines. In a third world country, poverty does not even compare to the poverty experienced in the United States. Children running bare foot through the streets, hanging on to the sides of buses just to sneak a free ride to the intersection where they would try to sell items instead of going to school. Through their hardships, I came to find that they were one of the most hospitable cultures. Almost everyone I encountered was willing to offer you a full plate of food even though they did not have enough to divide small plates amongst their family. In the Philippines, I discovered hard work and humility.
In Portugal I discovered history. Most of the country had preserved its historic architecture including castles and buildings. The people were kind, appreciative of tourists and eager to help you explore and enjoy their country. I loved the beauty that they kept in the country and it taught me that maybe some things are better left unchanged.
Amsterdam was a unique experience. I had the joy of ringing in the New Year there. Granted Amsterdam may be known for their legal marijuana and the Red Light District, but even with those legalities that I find strange, I still experienced and learned a valuable lesson. In America, police are everywhere and especially during special occasions and parties because there never fails for a fight to break up. Amsterdam is one of the biggest party destinations for New Years and I don't think I could have felt safer. I did not see a single fight or controversy. Maybe in a place where there aren't many rules, people really aren't interested in committing rule-breaking actions anyways. Amsterdam knows how to party right.
Although I have found many places I would love to call home, every place I've traveled made me truly appreciate the phrase "God bless America". I've been to Canada, Mexico, Spain, Portugal, France, the Philippines, Belgium, and the Netherlands. As I continue to explore the world I come to find many qualities I wish to have in myself that just aren't taught or instilled in American society. To me, other cultures seem to have more respect and tighter bonds with their families, some are more welcoming to foreigners while others are harsher, and each different culture has something special to learn from. I'm discovering myself while I discover the world.