"There has been no critical due diligence of the science of climate change, dogma dominates, sceptics are pilloried and 17th century thinking promotes prophets of doom, guilt and penance."




Climate change skeptic and Australian Professor, Ian Plimer



Written by Tabu Butagira, edited by Meiti Prang
In a 10-minute video student Joseph Tapia, using powerful imagery and narration, in 2007 broke down the concept of climate change in a way that makes it friendlier to understand and appreciate.
This is the framing of the argument: Increased emissions of greenhouse gases lead to rise in temperatures, which in turn heat the earth, melt the ice and swell, and in some instances dry up, the open waters while upstaging natural ecosystems.
Thus inaction is an existential threat to mankind.
This has been a basis of the clarion call by experts, and lately loudly by global leaders, for immediate action to stem an apocalypse. The Pentagon joined the fray, with US Defense Secretary Chuck Hagel warning that climate change is a global security threat.
Defence Secretary Hagel, speaking in Peru in October 2014, said climate change is a global security scare. Paolo Aguilar/European Pressphoto Agency
There is or should be no "plan B" on climate change other than prompt action, stressed UN Secretary General Ban Ki-Moon as he, in September 2014, joined a street march in New York by thousands of environmental activists.
Above the obvious rendering of climate change, however, hovers a cloud of confusion fed by polarity of ideas by the subject specialists. In fact, there are outright deniers and skeptics, many of them being accomplished scientists, including Physics Nobel Prize winner Ivar Giaever.
"Climate change politics is religious fundamentalism masquerading as science. Its triumph is computer models unrelated to observations in nature."




Australian Professor, Ian Plimer
And the argument that climate change threats are either exaggerated or a mirage is gaining traction, thus complicating consensus among world leaders on a more robust post-Kyoto protocol deal.
Princeton Physicist Will Happer, pictured below, in a testimony to the US Congress compared "the anti-CO2 crowd to the prohibitionists prior to the passage of the 18th Amendment, according to the Business Insider.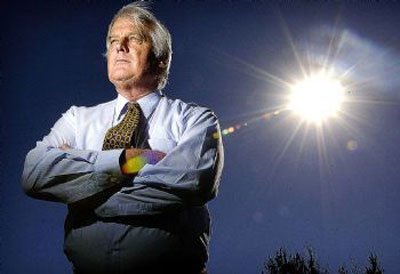 According to Happer, and as reported by the Business Insider, "additional increments of carbon dioxide will cause relatively less direct warming because we already have so much carbon dioxide in the atmosphere that it has blocked most of the infrared radiation that it can".
Adding the politicised ring-fencing of each country's individual, often selfish, economic interests to this polarised science produces the combustible arguments stalling action on climate change in spite of the rhetoric.
Here's the dichotomy. Whereas industrial emissions catalyse destruction of the ozone layer, forest harvest for bio-fuel in less-developed and electricity-deficient societies removes trees that absorb carbon dioxide. This is testament that neither is an exclusive solution to climate change; meaning urbanised growth is as much a risk as is under-development.

The urban irony where industries that provide jobs pollute the air

In rural and energy-deficient areas, man's invasions for firewood and timber poses environmental risks akin to urban pollution
In the immediate, nature binds all of mankind to same ramifications of its unpredictable shifts, although coping mechanisms differ among societies. Optimists proffer that technological innovation will offer new hitherto unimagined solutions, enabling the world to survive and thrive amid changes.
The lingering question remains: Will inaction bequeath to the next generation an earth where they meet their own needs without compromising the ability of the generation after them?