Adetola Kayode
Fifty-six years ago, precisely on October 1, 1960, Nigeria gained its Independence from the British government. Thanks to the foresight of its founding fathers: Obafemi Awolowo, Nnamdi Azikiwe and Ahmadu Bello.
Time again to roll out national colors and attires and reflect on the past years, where Nigeria is and the possibility of moving forward. Different kinds of celebrations are held in and outside the country to commemorate this day. A lot of activities took place in Nigeria, United Kingdom, The Netherlands, New York, Washington DC among other cities of the world to honor and showcase the unparalleled love Nigerian citizens have for their country.
For the Nigerian Community in Arizona, United States the day did not go unnoticed as it started with a fitness/ work out session, a football match and rounded off with a Night of Cultural Elegance and Entertainment. Gaily dressed for the national day celebration, Men, women, children and friends of Nigeria gathered to celebrate and extol the virtues of the Giant of Africa. It was a night of reminiscing over when they lived in their Fatherland and the resilient-never-say-die attitude of compatriots.
Despite all of these positive disposition, they are not unaware of happenings back home, where for the first time in over three decades, the country is going through a form of recession and they can only hope that things will get better soon.
Do you know:
• Nigerians are the most educated immigrants in the US
• 60% of Nigerians in the US have college degrees, this is far above the American national average of 30%
• A Nigerian family, The Imafidon have been named officially as the smartest family in the UK.
• The World's fastest super computer was designed by a Nigerian, Philip Emeagwali, a world renowned inventor and scientist.
• The designer of Chevrolet Volt Jelani Aliyu is a Nigerian
• Nigeria played a leadership role to help stop apartheid in South Africa
• Nigeria played host to 2 former Presidents of South Africa, Nelson Mandela and Thabo Mbeki, who sought asylum during Apartheid and also boycotted Olympics to show solidarity
• Nigerian Politicians and Musicians campaigned endlessly against apartheid
• Nigeria spent billions and lost soldiers in Liberia and Sierra Leone while helping to end wars in those countries
• In 2003, Nigeria restored the elected President back in power when there was a coup in Sao tome and Principe
• Nigeria gave monetary gift to Ireland during Nigeria's oil boom
• The movie industry, Nollywood is competing second place in the world with US' Hollywood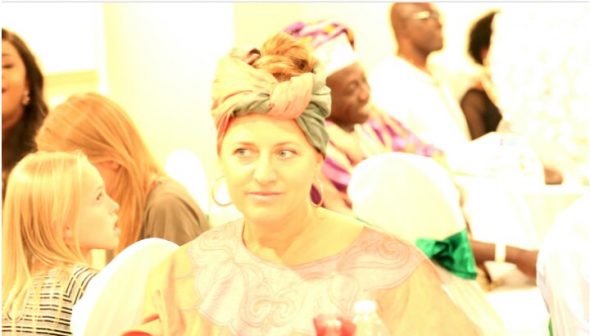 The Night was characterized with a parade of traditional wears, dance, songs and of course the sumptuous meals which comprised of Nigeria's assorted dishes. There was a parade of the culture, fashion, songs and dance of some of the ethnic groups in the country.
The 56th Anniversary cake decorated in the country's colours, Green and white, was cut alongside Nigeria's birthday mates at the event.It was also a night to honour one of their own, a Medical Doctor Olumide Onishile, who is doing great in his field, for the Nigerian community and making them proud. The night ended with the people rocking the dance floor and dancing to music hits from Nigeria and making waves all over the world.

There's so much more to celebrate, Nigeria has all of the potentials to make the nation great again, that green gene that makes us excel must be deployed at home, on the soils that brings forth great fruits either in the form of crude, agriculture or otherwise.
Though our tribes and tongues differ, let us continue to honour and uphold the virtues that make us stronger together so generations and generations yet unborn can pass on this legacy, while other people of the world will strive to identify with thus great nation through and true!